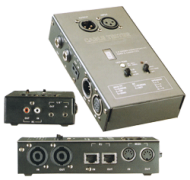 Sale price: $49.99 (includes shipping)
Availability: Temporarily out of stock. Please check back again soon.
Product Description
This is an indispensable tool that enables you to easily check the most common cables used by musicians and sound engineers. Faulty cables are a common cause of failure in live or studio situations. The Cable Tester sets a variety plug-in device. Convenient for useroperation testing. such as:
XLR (3pin)
1/8" phone jack
RCA connector
MIDI connector
RJ-45 network connector
XLR (7pin)
TT connector
1/4"phone jack
Speakon (4pin) & XLR (4pin)
Built in 400Hz to 1KHz signal generator used for cables frequency property testing.