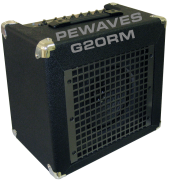 Sale price: $89.26 (includes shipping)
Availability: Usually ships the next business day.
Product Description
PEWAVES G20RM Giutar Amp.

The PEWAVES G20RM Giutar Amp is our intro Solid State 20 watts amp.

The GR20RM features 1/4" Send and Return jacks along with RCA stereo input for CD, iPod or any other background music for playing along. The G20RM also feature OVERDRIVE, SPRING REVERB and separate controlls for TREBLLE, MID & BASS. These amps are new in box and ready for shipping. The G20RM weights about 16 lbs and has the dimmensions of 12.75" x 12.5" x 9"

Specifications:

Volume: Pre-gain, Master volume Tone: Treble, Mid, Bass Overdrive Inputs: Guitar CD or iPod RCA input Power: 20W Reverb: Spring Efect loop, 1/4" send and return Output: Headphone 8" speaker Dimensions: 12 3/8" Wide x 9" depth x 12 3/4" Height We guarantee these amps to be free of defect. Please contact us with any questions you have.