Guitar Pedals >> PEWaves Wah Wah Pedal Guitar effect, PEW- AM-101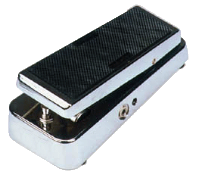 Sale price: $49.26 (includes shipping)
Availability: Usually ships the next business day.
Product Description
There's only one way to get the real sound and feel of the classic Wah-Wah pedal that changed electric guitars in the'60s. This Wah-Wah is totally authentic right from its classy chrometop to its legendary growl.

A true rock classic every guitar player should have!

If you play the real thing, you get the real sound. The heavy die-cast steel construction of this stomp box can take all the stompin' you've got in you. Totally smooth, silent, consistent, and easy to control.

The amazing PEWaves AM-101 Wah Wah is likely to be the last wah pedal you'll ever need or want. This is an awesome pedal to add to your collection.

Thesepedals are OEM by the company that manufactures Pro-sound equipment for many well known labels which we can not mention for obvious reasons.