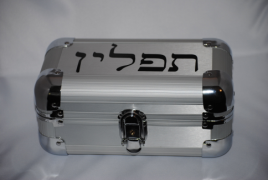 Sale price: $36.00 (includes shipping)
Availability: Usually ships the next business day.
Product Description
"בּ"ה
Shalom,
Do you travel?

Do you go to School?

Are you on the road most of the times?

Do you need to take your Tefillin with you in your backpack?

Are you afraid of damaging your Tefillin in transit?

Do you have a Bar-Mitsvah comming up and need a cool gift?
This protective yet cool lockable Aluminum case is what we have been waiting for a long time to safeguard our Tefillin. Its the perfect traveling/storage case for the Tefillin. Constructed of Aluminum sheet with Steel Chromed rounded corners. Inside is ligned with thin foam sheet. There is enough space in there for your Tefillin and a pocket Sidur. You can lock this box if need be. Inside dimentions are: 8.25" x 4.5" x 2.5" (22cm x 11.5cm x 6.5cm)
We have spent close to $1000 or more to buy our beloved Tefillin and this is the best way to protect it from almost all elements of nature.
For a limited time, FREE SHIPPING will be offered within United States (Lower 48 States).
Please feel free to contact us with any and all questions you might have.
This item only includes the brand new case with keys, The Tefillin in the case is NOT INCLUDED.