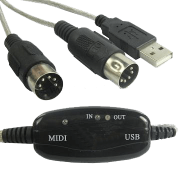 Sale price: $6.99 (includes shipping)
Availability: Usually ships the next business day.
Product Description
PEVAVES MD-106
The PEWAVES MD-106 is a complete USB to MIDI solution equipped with a USB connection to your computer and 1-in 1-out 16 channel MIDI connection to your MIDI devices. The MD-106 works with Windows XP or higher and Macintosh operating systems. Its single MIDI in and out connectors make it perfect for connecting a keyboard or controller to your computer quickly and easily. Since it is bus-powered by the USB port, the MD-106 is convenient and great for portable use.
FEATURES:
1-in 1-out MIDI interface (16x16 MIDI channels)
Connection to USB-equipped PC or MAC computers
MIDI activity indicators for each port
Self-powered--requires no external power supply
Built-in USB cable
Built-in MIDI extension cables
Includes OMS drivers for Mac OS 10.4
Extremely compact size